Reading Time:
2
minutes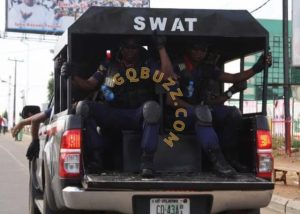 Jeremiah Oluwaferanmi
CLAIM
Monday 5th 2020, Nigerians moved to the street to protest the brutality caused by a police force division, SARS. On the 11th of October,  the government scrapped the division to create another known as SWAT (Special Weapons and Tactics) Team.
Recently, a website https://news.phxfeeds.com/share?docId=2574757268693603482&source=phx posted a news about the activity of the newly police division known as SWAT in Lagos. 
ROUNDCHECK FINDINGS
We fact checked the pictures uploaded in the news story to see if it was true or false.  According to our research, we discovered that one of the pictures was used over a year ago. It was revealed that the picture was used in a robbery attack report that happened in Cross river and was published on daily post 
Another picture that was used by the website was a similar picture used by Guardian Nigeria on the 22nd of August 2020.
When the picture was critically checked we discovered that the uniform wasn't that of the police force but of the Nigeria security and Civil Defence Corp from the plate number of the van assumed to be used by SWAT personnel
ROUNDCHECK FURTHER FINDINGS
Roundcheck decided to verify the claim by speaking to the Lagos state police command public Relation officer, Mr. Muyiwa Adejobi via a phone conversation. Mr. Muyiwa told us that the new police division known as SWAT hasn't been in operation yet. He also disclosed that the division is currently undergoing  trainings.
CONCLUSION
The report that Swat operatives has started operation in Lagos is false