Reading Time:
4
minutes
A Nigerian political analyst, Goerge Udom, on Saturday, 19 March 2022, posted on his Facebook page three claims regarding minimum wage, fuel price, and house rent in Ghana and Nigeria
Mr Udom made these claims while comparing the living situations between these two West-African Countries. 
He said, "Comparing Apples to Apples:
Minimum wage:
Ghana N25,300
Nigeria – N30,000
Fuel Price/ltr
Ghana – N350
Nigeria – N165 (officially)
House Rent:
Ghana + 8% Tax Nigeria + 0% Tax
There is no free lunch anywhere in the world! If Nigerians want a developed economy we simply have to PAY for itit!"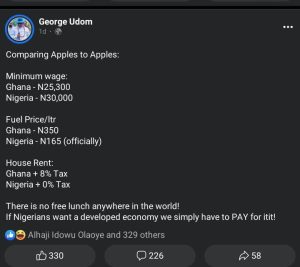 This post has generated a total of 330 likes, 226 comments, and 58 shares at the time of fact-checking.
When contacted for the source of his claims, Mr Udom left the inquiry message unanswered on his Facebook chatbox. 
Roundcheck's Findings
Claim 1
That minimum wage in Ghana is N25,300, while N30,000 in Nigeria
Findings by Roundcheck show that the claim that N30,000 is the monthly minimum wage in Nigeria is accurate, but that N25,300 is the monthly minimum wage in Ghana is false. 
According to information available, as of March 2022, on Wageindicator, a non-profit organisation that shares and compares information about wages, labour law and careers in 196 countries globally, the minimum wage in Ghana is GHS13.53 daily, which is equal to 776.19 in Nigerian currency, according to Currency Matrix's convert. 
In Ghana, monthly minimum wage figures are calculated as daily minimum wage × 27 days, according to Wageindicatior. So going by mathematical calculation, GHS 13.53 in 27 days is equal to GHS 365.31 —equivalent to 20,820.64 in Nigerian currency. 
Meanwhile, in Nigeria, the monthly minimum wage is N30,000 (522.94 in Ghanian cedis). According to Wageindicator, The minimum wage in Nigeria is based on monthly income with an average working period of 8 hours daily and 5 days weekly.
Verdict: While N30,000 as the monthly minimum wage in Nigeria as claimed by Udom is TRUE, the minimum wage in Ghana is GHS 13.53 (N776.19) daily, GHS 365.31 (N20,820.64) monthly, not N25,300 as claimed by Udom. This claim is Partially True.
Claim 2
That 1 litre of fuel costs N350 in Ghana, while the official price is N165 in Nigeria. 
According to a record found at GlobalPetrolPrices.com, petrol price in Ghana, according to data updated as of 14, March 2022, is GHS 8.618 per litre, equivalent to 491.18 in Nigerian currency. 
The above price was also confirmed by Statista. According to them, as of March 14, 2022, the price of gasoline in Ghana stood at 8.62 Ghanaian cedis (GHS) per litre, corresponding to roughly 1.21 U.S. dollars.
Further findings reveal that the above update is the most recent, as at the time of writing this report, on petrol price in Ghana. 
Meanwhile, in Nigeria, presently,  the official pump price of petrol (PMS) is N165 (2.87 in Ghanian cedis, equivalent to 0.39 US Dollar), NigerianPrice.com — an online resource designed to help Nigerians (and others) to keep abreast of current prices of products and services available in the country, revealed.
The Verdict: The official petrol price in Nigeria is N165 as claimed, hence TRUE. But findings by this reporter revealed that the fuel price in Ghana is N491.18, not N350 as claimed, hence FALSE. This claim is Partially True.
Claim 3
That house rent tax in Ghana is 8%, while it is 0% in Nigeria. 
According to Ghana Revenue Authority, There are two rates for rent tax; 8% for residential premises and 15% for non-residential premises.
Meanwhile, in Nigeria, despite several controversies that trail the issue of house rent tax, finding show that rent derived from the lease of real properties, whether for residential or commercial purposes, is not a supply of goods or services and is therefore not liable to Value Added Tax(VAT). What this means is that house rent tax in Nigeria is not recognised by the law. 
The Verdict: The claim is TRUE.