Reading Time:
3
minutes
A blog post claims that Senator Ademola Adeleke the Osun State Gubernatorial candidate of the People's Democratic Party ( PDP) is giving out #10000 as ' Campaign Funds'.  
The blog claims:  " Support Ademola Adeleke for the GOVERNORSHIP CAMPAIGN and receive N10,000 as part of his CAMPAIGN FUNDS." 
Roundcheck Findings
While fact-checking this claim using the Chrome browser, this came up: 
" Deceptive Site ahead. Attackers on lyupz.com may TRICK you into doing something dangerous like installing software or REVEALING your personal information( for example, passwords, phone numbers, or credit cards.)"
ROUNDCHECK went further by using the Samsung Galaxy browser, the site was accessible and the following was discovered:
 The following information is required:
Email address. 

Phone number. 
Once the above information is provided, a new page pops up: 
" Congratulations you have been selected to benefit from the support Fund Payment provided by ADEMOLA ADELEKE ORGANIZATION GOVERNORSHIP CAMPAIGN 2023."

Applicants are required to answer certain questions. See below: 
 What is your marital status?
Why Do You Want This Grant?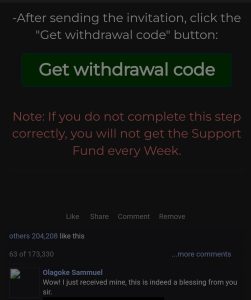 Website not valid
Akewusola Habeeb, a tech expert, spoke to ROUNDCHECK on the validity of the site.
 " Google Chrome quickly flagged down the page for its lack of HTTPS and a Padlock at the beginning of the address bar", he said. 
The expert added: "The creator of this site didn't verify his Domain which resulted in Google chrome flagging it. However, some phishing sites have verified domains. A government-approved site Domain always ends with .gov or .gov.ng." 
 After speaking with Akewusola Habeeb, ROUNDCHECK took a look at some government-owned websites that are believed to be credible to compare the weblinks and other features.
A close observation of these websites' address bar shows that the Domain site ended with .gov.ng which gives it its credibility.
ROUNDCHECK assessed the address bar of the official website of The Nigerian Federal Ministry of Education to further verify the verdict of Habeeb. 
This finding confirmed the verdict given by Habeeb that a padlock icon appears near the weblink to show the credibility of the site.
Bellow is the homepage of the official website of the Nigerian Federal Ministry of Education.
Who Is Senator Adeleke Ademola
Senator Ademola Adeleke is the PDP Gubernatorial candidate for the 2022 Gubernatorial election in Osun State. He is the uncle of the popular Nigerian Hip-Hop musician Davido.
ROUNDCHECK checked through his Twitter handle: @AAdeleke_01 and no information or announcement of scholarship were found. 
Verdict
The claim that Ademola Adeleke is giving out #10000 as Campaign Funds is FALSE.