Volunteer Network
The ROUNDCHECK Volunteer Network was created in March 2022 with one single objective, which is to train youths on how to combat false information. We saw this as a necessity because of the widespread of false information on our social space and also because the youths form a large percentage of internet users.
We roll out two applications for the network annually, March and August. The period of volunteering under this network is limited to 4 months. During this period, volunteers receive free training, mentorship, tools, and opportunities. At the end of each volunteering period, members get a certificate recognized by members of the Africa Facts Network which comprises 23 Fact-checking organizations in Africa.
We have a duty and that is to combat false information, reduce its spread, and create an environment where only true information can be gotten. We are open for supports and partnerships to make this goal easy and effective.
You can contact us here- Contact Roundcheck
Currently, we have 30 volunteers as the second cohort of Volunteers, who are going through training with ROUNDCHECK and have access to free tools and opportunities.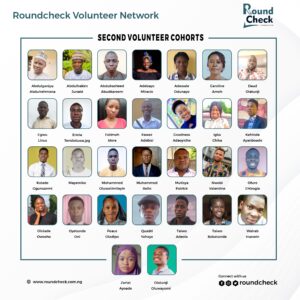 Volunteers and activities
First cohorts – March 16-July 16