Reading Time:
3
minutes
Muritala Seun
Claim
A post by a Twitter user which claimed that walking barefoot can lead to an increase in penis size was spotted online. The picture posted was found to have been posted on other websites. On the 3rd of June,  2020, ihlayanews.com and nairaland.com both posted the news.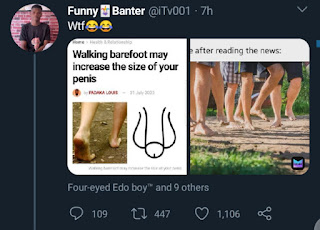 Roundcheck Findings
The news claimed that some Canadian researchers did find out in a 2014  research carried out in DR CONGO that walking barefoot can lead to penis enlargement. One of the lead researchers, John Powell was mentioned to have taken part in the research the news claimed.
Read full report 
"Yes walking on the natural ground with your bare feet for thirty minutes a day would give you one inch per year ballpark. Canadian researchers who spent two years in the Democratic Republic of Congo trying to bust the myth of natural penis enlargement went back home with newfound length and girth. Back in 2014, they thought maybe it has something to do with the nature of the soil in Congo."
" To their surprise, Canadian men who tried the method in Canada were blessed with new inches too. The real science behind this is still a mystery. The traditional healer in DRC who had been prescribing this to men for years said it is the gods' gift to men so that each man will be able to satisfy their wives."
"According to the healer as soon as a man hit puberty every step he takes barefoot counts. He also warned men not to be greedy because they would reach a point where the blood in their body is no longer enough to sustain a full erection"
CONCLUSION
This report is misleading
Speaking with a medical expert, Mr. Chinedu Mpamugo, he said the claim can not be relied upon as the website is not a verified source. He questioned the fact that no methodology was provided in the said research. He however mentioned that several factors can lead to an increase in penis size and that walking barefoot or not may just be a coincidental finding. He stressed that the claim cannot be relied upon
Another Health specialist in Lagos, Mr. Ikechukwu Ogbu said the research cannot be relied on but walking can improve sexual performance
"How rational do you think this claim is? Within yourself, do you think it is true, and if you think it is true, what is the physiology behind it?
There are many misleading posts and articles online. After all, the internet offers any species of human being the opportunity of expressing nonsense which often finds more traffic among the Nigerian people.
walking (not barefooted) is generally good for the body as in exercise. It does not in any way increase penis size, but it can enhance sexual performance"
A medical student who was also contacted said the report has no medical explanation. He said he had no medical explanation for the claim and submitted that the report may not be true.
Further unconfirmed claims online had stated that penis pump and stretching the penis can be used to increase the penis size. This however cannot be substantiated.
There are several claims online of penis enlargement pills and creams being used to increase the size of the penis.
There however seems to be no explanation for the increase in penis size simply by walking barefoot medical experts say.