Reading Time:
3
minutes
A Facebook post by Prince Eniola Ojajuni claimed that the sports minister said  N560 Billion is needed to fix the vandalized MKO Abiola Stadium in Abuja.
The caption of the post says: "We need N560 Billion to Fix and rehabilitate MKO stadium destroyed ——–sports minister." 
This post was made a day after the vandalization of the MKO stadium at the end of the match between Nigeria and Ghana. The match ended in a 1-1 draw, making Nigeria unable to qualify for the 2022 World cup in Qatar. 
At the time of fact-checking, the Facebook post has gathered 58 likes, 39 comments, and 29 shares. 
Another post that is similar to Prince Eniola Ojajuni's post was found on the Sports by ACB page and also on LIKA Online TV.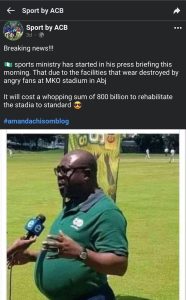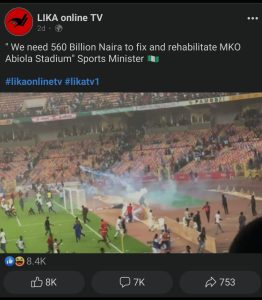 Roundcheck Findings
The MKO Abiola Stadium located in Abuja was adopted for renovation by Aliko Dangote on  7, November 2019.
The stadium was vandalized during the Qatar qualifier match between Nigeria and Ghana which ended in a 1-1 draw. 
The full picture used in that claim was gotten online.
An image search was conducted and it revealed that the picture used is that of Thembelani Thulas Nxesi. Nxesi, former Minister of Sports and Recreation, is currently the South African Minister of Employment and Labour.
The Nigerian Minister for Youths and Sports is Sunday Akin Dare and his office hasn't officially announced an estimated sum for renovating the vandalized MKO Abiola stadium. 
Additionally, the official website  Ministry for Youth and Sports hasn't released any news about the vandalization of the stadium. Nor has it released an official estimated sum to renovate the vandalized MKO Abiola stadium.
Conclusion 
After findings, the claim that the Nigerian Sports Ministry needsN560 Billion to fix and rehabilitate MKO stadium is FALSE.